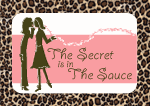 Thank you to
The Secret is in the Sauce Blog
- they listed me as one of their Saucy Blogs !! Love you for it!
Please check out their blog as they have somehow become an amazing gathering spot for lots of Mommy
bloggers
and not only does it bring me traffic (
can't lie - I'm loving that and appreciate it

soooo

much - now go check out my
website
and if you like what you see, click on to my
membership page
for Chit Chat for Mommies and join our Chatty Mommy Club - its FREE!!
) but I have read so many fabulous posts on so many wonderful blogs - whether they make me laugh or cry, they all have something that you simply just "get" by being a Mom!